Prof. Dr.-Ing. Heather Kaths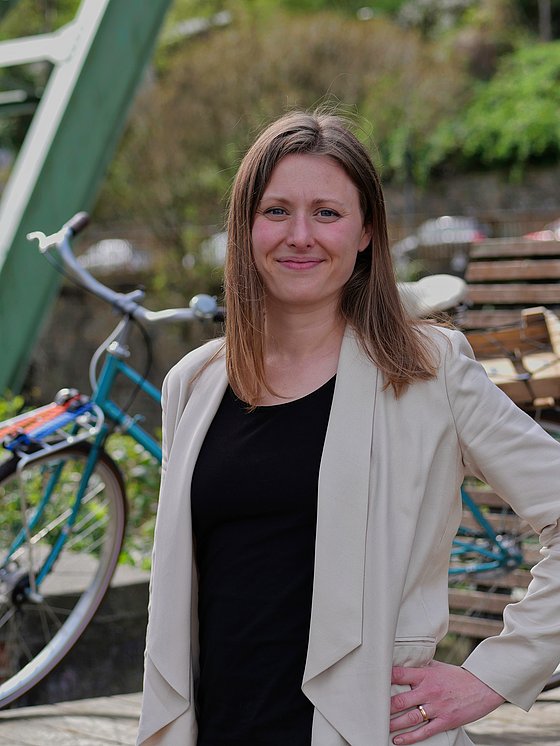 Heather Kaths received a Bachelor of Science in Civil Engineering with a focus on Transportation Engineering from the University of Calgary in Canada. During her studies, she took part in an international student exchange at the University of Stuttgart in Germany. It was in Stuttgart that she first came into contact with sustainable mobility topics, both personally and within the study programme.
Motivated by this exchange, Ms. Kaths pursued a Master of Science in Transportation Systems at the Technical University of Munich (TUM). Here, she focussed on demand management and whenever possible, cycling and walking. A following research associate position at the Chair of Traffic Engineering and Control at the TUM allowed Ms. Kaths to focus on bicycle traffic from a modelling and simulation perspective, complete her doctoral dissertation on this topic and build a research group about urban traffic simulation.
As of April 2021, Heather Kaths has led the new Chair of Bicycle Traffic. With regard to research, she is passionate about data, behaviour modelling, and traffic simulation. In teaching, she aims to bring an international perspective into educating the cycling experts of tomorrow.
Professional Activities
Since 04/2021: Professor at the Chair of Bicycle Traffic
Bergische Universität Wuppertal
01/2019 – 03/2021: Research Group Leader
Chair of Traffic Engineering and Control, Technical University of Munich
02/2012 – 12/2018: Research Associate
Chair of Traffic Engineering and Control, Technical University of Munich
03/2013 – 12/2016: Network Coordinator
International Education Network for Intelligent Transportation Systems (ITS EduNet)
Education
02/2012 – 09/2017: Doctor of Engineering
Chair of Traffic Engineering and Control, Technical University of Munich
10/2009 – 11/2011: Master of Science in Transportation Systems
Technical University of Munich
09/2003 – 03/2009: Bachelor of Science in Civil Engineering
University of Calgary, Canada
Feuchtinger-Wehner-Denkmünze (2020)
Prize for outstanding doctoral thesis from the Bavarian State Ministry of Science and Art (2019)
Natural Sciences and Engineering Research Council Postgraduate Scholarship (2010)
Natural Sciences and Engineering Research Council Undergraduate Student Research Award (2009)
Founding member of the working group 3.10.3 (Multimodal Simulation) of the Forschungsgesellschaft für Straßen- und Verkehrswesen (FGSV)
Member of the Scientific Advisory Council of the Zukunftsnetz Mobilität NRW
Member of the Scientific Advisory Council of Deutsche Verkehrswissenschaftliche Gesellschaft (DVWG)
Jury member of the competition "ways2work" of companies and communes in NRW