Looking Back at CRBAM23 in Wuppertal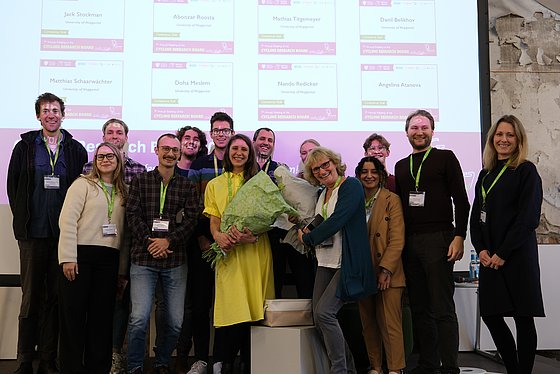 Thank you to for joining us in Wuppertal for the 7th Annual Meeting of the Cycling Research Board! Our team in the Chair of Bicycle Traffic at the University of Wuppertal was honored to host you at this first conference held in Germany. This year, we were pleased to welcome 131 participants from 19 countries across 5 continents who engaged in our program including 28 sessions with contributions from 95 speakers representing a variety of disciplines—demonstrating the internationality and interdisciplinarity of our community. We were impressed by the research and perspectives as well as appreciative of the energy you all brought to this year's annual meeting!
See the Conference Program here.
CRBAM23 - Wrap-up
CRB is coming to Wuppertal!
Oct 25-27, 2023
Join us to discuss the "hill we ride" to find solutions to practical and research challenges
The Cycling Research Board is coming to Germany for the first time for its 7th Annual Meeting from October 25th to 27th, 2023. This year's meeting is organized by the Chair of Bicycle Traffic at the University of Wuppertal. We invite contributions from diverse disciplinary and cultural backgrounds to better understand the role of cycling in changing mobility systems.
As another first this year, the authors of selected, high-quality submissions will be offered a route to publishing a full-article in Special Issue focusing on CRBAM in the newly established Journal of Cycling and Micromobility Research.
Keep scrolling to learn more about this publishing opportunity and the program for the annual meeting. You can also find all of these details in our Call for Submissions (closed).
We are looking for BUW student volunteers for CRBAM23! Join our team and contribute to the conference behind the scenes. As a volunteer, you will have the opportunity to get free access to the scientific program of the conference. Apply now through this survey and be part of the conference in October!
BUW Students may also be able to join the conference, more information on this will follow soon!
About the conference
We invite a variety of perspectives, especially from early career researchers. Participants are encouraged to submit work, even early stage work, that reflects a variety of inter- and transdisciplinary topics, including:
Creative approaches to promoting cycling
Innovative methodologies to study cycling
Using cycling to challenge/rethink assumptions about mobility
Critical approaches to transport technology and innovation
Although Wuppertal shares a rainy climate with previous host cities in the Netherlands and Denmark, this is the first time that the Annual Meeting will be held in a very hilly city with sparse cycling infrastructure and a correspondingly low modal share of cycling. But there is a will for change! With this environmental and cultural backdrop, this year's CRB Annual Meeting will reflect on "the hill we ride" to foster cycling-friendly places through research.
Our discussions will focus on the real-world and scientific challenges we face and we will engage in an interactive dialog around the solutions proposed by those contributing to the meeting. Challenges we face may include, for example: a lack of cycling safety; the negative climate and health impacts of car-centric cities; cultural and individual preferences for non-cycling modes; the many potential hindrances to the up-take of cycling created by geographic conditions, infrastructure design, and the built urban form; the lack of data; or shortcomings in fundamental knowledge on attitudes, behavior and bicycle traffic flow. Our goal this year is to offer a platform for discussing, examining and debating new and old solutions to address wicked to practical challenges.
The CRB Annual Meeting strives to promote interdisciplinary networking opportunities for academics, practitioners and policy makers involved in research to strengthen alliances and facilitate the transfer of knowledge to action. It is a unique gathering which uses cycling to bring together a broad range of researchers including social scientists, engineers, data scientists, psychologists, geographers, physicists, and others touching cycling-related topics. We offer a constructive environment in which mutual support in developing applied and fundamental research, skills and knowledge is central.
Essential to the CRB Annual Meeting is the well-structured social and workshop-based program that seeks to both share and generate new ideas for cycling research. To create this unique environment, no one is a passive visitor because everyone who joins the Annual Meeting actively participates to build our conference together! Bending the conventional conference rules, each session dedicated to individual contributions will be unique. With numerous existing opportunities to deliver standard presentations about your research, sessions at the CRB Annual Meeting are designed to provoke interactive dialogue between and among the speakers and audience. All sessions are organized using a variety of disruptive moderating approaches, such as the 33 Liberating Structures (e.g., 1-2-4-All, troika consulting, etc.) and other non-traditional methods for facilitating active and interactive discussions. Assigned moderators and facilitators will work with accepted contributors to organize interactive sessions and everyone joining as a contributor should come with the intention to discuss, not only "present" their research.
Along with your individual and group contributions, the 2023 programme will include workshops focused on important skills and knowledge for researchers as well as a fishbowl discussion highlighting different perspectives on the challenges and solutions for creating cycling cities. Social events will also be organized, including a welcome reception and conference dinner to keep our conversations going after hours.
Special Issue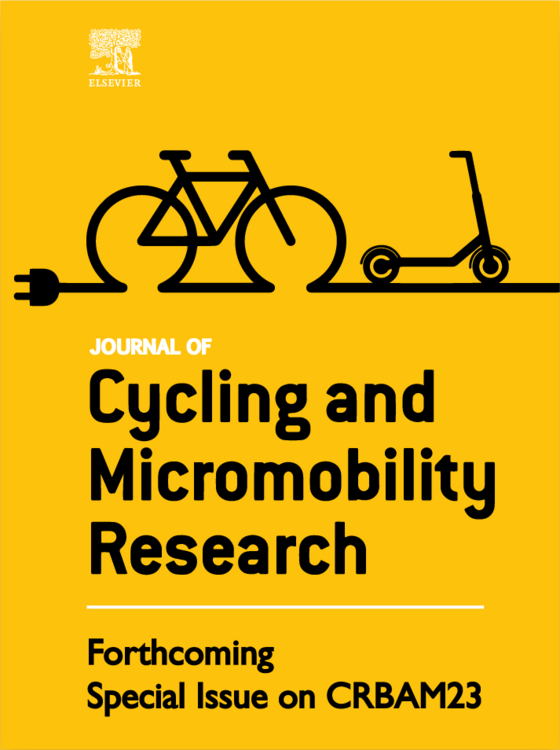 As an exciting first for the Cycling Research Board Annual Meeting, this year we will offer a platform for contributors to publish peer-reviewed articles in the forthcoming Special Issue for CRBAM23 in the new Journal of Cycling and Micromobility Research. The author(s) of high-quality abstracts will be invited to submit a full-length article to capture the research findings, new methods or tools, or the other solutions they discuss at our Annual Meeting.
More information and deadlines for article submission and publishing to come!
Practical Information
Wuppertal is near to several large cities which regularly host large international trade fairs and booking a room early is strongly recommended. There are no blocks of rooms or CRB conference discounts available, however the organization team suggests the following local hotels:
All registered participants attending the CRBAM23 will receive a 3-day-pass to use our local transit network from our generous sponsor the Wuppertaler Stadtwerke (WSW). Not only will this give you access to the local bus and s-bahn lines, these passes can be used to take a ride on the Schwebebahn to get a unique view of the city and experience this uncommon form of transit.
If you are interested in cycling in Wuppertal, a new bike sharing system is expected to be launched in Wuppertal this year and there are several shops which rent bicycles at a fee. This website will be updated with more information about these local options you may consider using if you would like to experience our city as a cyclist.
Coffee, tea, cold drinks, snacks, and lunch will be provided on all three conference days. Contributors are also invited to a welcome reception with light snacks and drinks as well as a conference dinner on the first two nights of the conference.
Questions?
If you have any questions, please contact the team in Wuppertal at: crbam23@uni-wuppertal.de
Those who are submitting a proposal for a group contribution are especially welcome to contact the organizing team ahead of time to clarify how your planned workshop, panel, or other interactive session may fit into the program.
The CRB Annual Meeting is overseen by our international, interdisciplinary Steering Committee, managed by the Urban Cycling Institute in Amsterdam, NL.